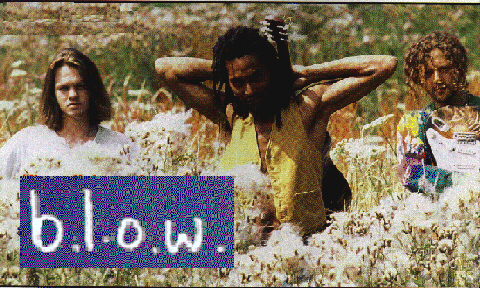 Taken from Raw magazine #172 pix by Mr.Dave Willis

Members  : jimmy dickinson (keyboards)
(L to R)   dave gooding (vocals & acoustic guitar)
           bruce john dickinson (guitar)
others     nicky boyes (bass & backing vocals)
           mark richardson (drums)

---
Concert Review
New Castle City Hall 4th May 1995, Supporting THUNDER
In New Castle, I reached at City hall before 2 hours the show starts. When I walked around there, equipments just are carried in the hall. In the stuff, I found a black man with dred hair, who held acoustic guitar in his arms. Yes, he's dave gooding who is a vocalist of b.l.o.w.. Really ? He walked for the street in front of the hall. He opened and put guitar case on the street. Then he sang own song... Just like street performer! He adjusted himself to the town. Nobody noticed him, but I had heard his good performance for a little while. Then, I talked him that I was looking forward his show, and shake hands. I'm lucky man and he's gentle and plain guys.
Their performance was started even if audience were not full of the hall yet. They sounds very earthy. bruce john dickinson had very old stratcaster, his riff imaged like Jimi Hendrix. jimmy dickinson was intoxicated with his organ play. The rhythm section are influentials very much. To our surprise, they make a reproduction of '70s sound.
Opener, 'dred indian blues' sounds cheerful for acoustical unit, but changed electrical heaviness little by little. The following song had strong groove - in the middle of 'hand full of nails' -, dave lights a cigarette and twitter "tikibobobon". He looks nice guy like Terence Trent D'arby. At last he rob bruce of strat and pluck it hardly. Meanwhile his sustain remains the hall, bruce hands on Les Paul and continuously started 'humble pie'. How impactive ! I feel completely hit between the eyes. They played real rock though new-formed band. Of course I know they were former Little Angels. but now defferent sounds based hard rock, blues, R&B, soul and much more. I had no doubt they are British brightest hope. I never miss them now and then.
[Set List]
dred indian blues
hand full Of nails
humble Pie
Yer Blues
Angel Sittin' In A Tree
---
Albums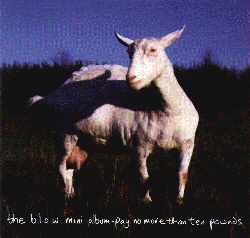 Album    : man and goat alike     /  UK : Cottage Industry  CD:COTIND CD 1
Producer : henry hill
Songs    : 

hand full of nails (featuring - the man who wasn't there) / jesus loves me / humble pie / if / bump it (mono) / who composed that song? / dred indian blues

The band says this is mini album, but running time is over 45 minutes. I think the reason makes us get it easily. They says "pay no more than ten pounds" too.
The sound is too brilliant to get cheaply!!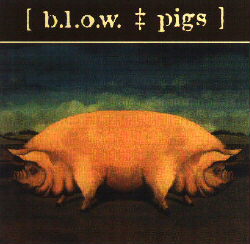 Album    : pigs     /  UK : Cottage Industry  CD:COTIND CD10
Producer : Andy Julian Paul
Songs    : 

Kiss Like Concrete / Dreams Of The Dead / Beautiful Day / Mushroom Tea / Kill Yourself (And Learn By Your Mistake) / King Pig / Dead Man Face / Brief Encounter / Don't Ride The White Horse / Sleep Tonight

First full length album... My most favorite album in '96. It's an art.
---
Singles


Shroomin' at Moles - b.l.o.w. live absolutely no overdubs -

shroomin' / yer blues / dred indian blues / on my miserable way
They say again "This is not an album. This is a single". Running time is over 26 minutes. Great!



Come Together:UK / V.A.

Brit Rock compilation. b.l.o.w.'s Angel Sittin' in a Tree is from a rare single.

They also release a demo tape, 7 inch single and video.
It's rare - not only in Japan but also in UK -. So I can't get them yet.

---
My Littel Angels' Discography
---
Return to Killer UK map - SKIN - THUNDER
---
Last Update :

---
DJ by Shuichi "KINO'89" Kinoshita / email:kino@kino1989.net