THIN LIZZY -A Tribute To Phil Lynott-
Japan tour '94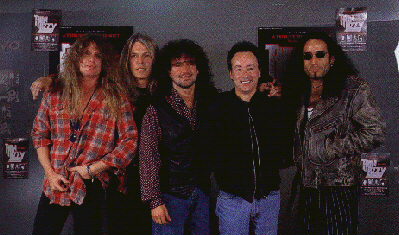 Taken from BURRN! magazine 1995.Feb., pix by Mr. Gutchie Kojima

MEMBERS

 John Sykes ( Vocal, Guitar )
   Scott Gorham ( Guitar )
     Darren Whraton ( Keyboards )
       Brian Downey ( Drums )
         Marco Mendoza ( Bass ), he is one of the members John Sykes' BLUE MURDER.


Concert Review
When I heard the concert information of THIN LIZZY at first, I can't believe it and I wonder very happy if it's true. I'm into their songs after Phil Lynott's death, so I never heard LIZZY's songs on their concert.I can hear only their albums. I wish for long time that I want to hear and sing LIZZY's songs together! Because we never forget their beautiful, gentle and passionate songs, Never!! We should introduce in future, mouth to mouth. It's so worth whatever the other singer sings.
And then, my dream came true soon...
I went 4 shows in Tokyo. That's memorial days I'm looking forward to. When the siren ring on the stage, Opening 'Jailbreak' started. It's just begining for the LIZZY's world !
John Sykes makes vocal like Phil. It's very similar. No problem! THIN LIZZY is RE-BORN!!
Legendary twin lead guitarists - Scott Gorham and Sykes - often stand up on the monitor speakers. That's old LIZZY's formation! Good looking guys. I could see it at last! And their guitars harmony makes me ultimate excitement.
When Darren Wharton's keyboards solo carried on 'Angel Of Death', the audience clap hands and give cheers. A part of the song 'Angel of death!', Scott's guitar scream! That's like "LIFE" album!
Brian Downey's drum also is execellent! I've never seen and heard better drummer than him! 'Are You Ready' and 'Bad Reputation' are especially outstanding. I'm into him now.
We are welcome for Marco Mendoza, bassist instead of Phil. It's serious act.But I think that he does the best he can and it isn't formed new LIZZY without his bass sound.
When 'Still In Love With You', the screen is down from the top on stage. The film brings Phil Lynott back to life. Then, I feel sentimental and joy of life... He's dead, but I'm alive. I found that singing his songs forever makes his life forever.
An ending for concert is of course 'I'm just a cowboy, Lonesome on the trail...'. I like this song very very much! I always imaged Phil wears cowboy fashion and rides white horse on heaven. We sing louder 'Roll me over and turn me around!' Being continued 'is the life for me...', 'The Boys Are Back In Town' starts. It's the same as always! It's ultimate ending!!
As results, I enjoyed concerts very very very much. I never forget. Phil Lynott reminds his songs and soul in our mind.
---
After six month... I visited Phil's grave in Ireland. Because now I should report to him. He sleep at Howth. When I found him and stood in front of him, I could see his grave are filled with flower and gifts. Everybody loves you. Your songs, your spirit and your band THIN LIZZY is still ALIVE... Sure!!

Special thanks to members of THIN LIZZY and UDO artists Co. invited them in Japan. And Dr. Adam Winstanley - he help my first Phil's grave visit. Of Course, I dedicate this page and many memories to Philip Parris Lynott. And we Japanese wish that all fans over the world can see them.
---

TOUR DATE
November 18 '94 Kawaguchi Lilia Main Hall, Saitama
November 19 '94 Shibuya Kokaido, Tokyo
November 20 '94 Miyagi Kenmin Hall Sendai
November 22 '94 Shinjuku Kousei-nenkin Hall, Tokyo
November 23 '94 Nakano Sun Plaza Hall, Tokyo
November 24 '94 Nakano Sun Plaza Hall, Tokyo
November 25 '94 Alkaic Hall Osaka
---

SET LIST ( All shows are same )
Jailbreak
Waiting For An Alibi
Don't Believe A Word
Cold Sweat
Emerald
The Sun Goes Down
Angel Of Death
Are You Ready
Bad Reputation
Suicide
Got To Give It Up
Still In Love With You
Cowboy Song
- The Boys Are Back In Town
Encore
Rosalie
- Cowgirl Song
Black Rose
Thunder And Lightning
---
Special thanks to Mr.Alex DeCosta's MIDI archive (Microsoft Internet Explorer only)
---
Back to my LIZZY page
I want to put up your comment. If you'd like to talk about this page's artist, Please send me email or Visitor's Sign
---
DJ by Shuichi "KINO'89" Kinoshita / email:kino@kino1989.net